PCAT Prep: Two- and Four-Month Study Schedules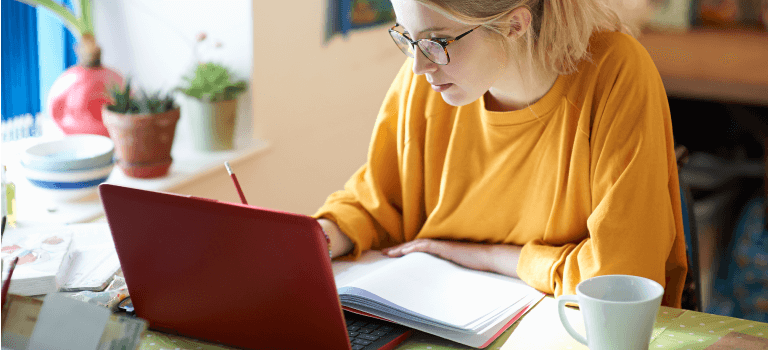 Students taking the Pharmacy College Admission Test (PCAT), the entrance exam for pharmacy school, can choose from an array of study methods: review books and prep courses, personal tutors and study groups.
While choosing a method that fits your learning style is important, it is all too easy for students to spend too much time spinning their wheels rather than engaging in focused preparation.
"If that book is going to do nothing more than hold your laptop computer 3 inches higher, don't buy it," said David McCaffrey III, Ph.D., assistant dean for student affairs at the St. John Fisher University Wegmans School of Pharmacy. "You have to use the resource."
Below, St. John Fisher University's online Pharm.D. program offers PCAT study schedules and advice on fully engaging with the content for students interested in pursuing pharmacy school and, ultimately, careers in pharmacy.
Develop deep learning strategies early.
In pre-pharmacy courses, be sure to master the topics that will appear on the PCAT. "The learn-and-purge strategy is not going to equate into a strong PCAT performance, because you won't be able to draw on anything that you've been exposed to before," McCaffrey said. Deeply learning the material from freshman year onward will not only give you a boost in PCAT studying but also strengthen your knowledge base for pharmacy school.
Complete PCAT registration after starting to study.
By registering after beginning preparations, you can approach the test with greater confidence, which McCaffrey believes results in the best performance.
Don't let the last test be your first attempt.
Pearson, the organization that creates the PCAT, administers the test at specific times of the year:(PDF, 268KB) July, September, October/November, December, January, and February. Scheduling your first attempt earlier in the cycle gives you a cushion in case you want to take the PCAT again. "Plan for two [attempts] and hope for one," McCaffrey said.
Customize your study plan to your experience.
The amount of time a student should devote to studying varies by learning style and academic background. McCaffrey recommends students approach PCAT prep like any another class, or a three-credit course lasting one semester. This translates to nine hours of studying each week.
For students on a shorter time frame: Dr. Jeff Koetje, MD, PCAT adviser and director of pre-health programs at Kaplan Test Prep, recommends studying 10 to 15 hours per week and a total of 100 to 200 hours.
Choose one to two study tools.
There are multiple tools for PCAT prep, including books, tutors, online courses, and undergraduate study groups. No single method guarantees a strong score. "There's no pre-professional curriculum in the country that matches the PCAT identically," McCaffrey said. Focusing on just a couple study methods allows for a diversity of perspectives without becoming overwhelming.
Shift your thinking.
The PCAT requires more strategy than a typical test. "The trap that students fall into is that they approach something like the PCAT in the same manner that they would approach a midterm or final in one of their university classes," Koetje said. Instead, prioritize developing critical thinking and reading skills, particularly by practicing passage-based questions.
Study the official test blueprint.
Pearson publishes an online guide to the PCAT that indicates how extensively each content area will be covered. Understanding the blueprint can help you strategize your studying for larger point gains. Focus where your weakest topics overlap with the highest potential gains.
Start with a diagnostic test.
Before reviewing any content, take a diagnostic test to figure out your strengths and identify areas to improve. This knowledge will help you customize your study plan to focus on less familiar topics.
Do practice problems.
Koetje recommends building practice problems into your content review over time. Start with discrete, stand-alone questions; next, move on to questions about a passage. Work up to completing a series of passages and questions, then to completing whole sections of the test under timed conditions. Eventually you will be ready to take a full practice test.
Take practice tests as you are ready — not too soon.
Your first practice test scores may be lower than your diagnostic test. "[This] happens frequently with students because that first full-length test is really the first time that they're trying to put everything into practice, and they're not masters of it yet," Koetje said. Try not to panic and carry on with your PCAT study schedule.
The PCAT is a comprehensive test that requires more time and strategy than a typical exam. For most students, a year of preparation would be excessive. Advisers suggest studying two to six months. Fisher Pharm.D. Online offers the following study plans as a general PCAT study timeline. They should be adjusted based on your academic background, areas of strength and opportunity.
The two-month schedule is a more concentrated, fast-paced option, ideal for students on a semester break or summer vacation. For test-takers who are currently taking college courses or working, the four-month plan may be the better fit.
Also, be sure to factor rest into your schedule. Koetje advises students to study in two-hour chunks with a short break in between and to take one or two days off each week.
Back to Toparrow_upwardBack to top
Back to Toparrow_upwardBack to top
McCaffrey advises test-takers not to enter the test center until they are ready to begin; if there are open seats, you will be started on the test, even if it is before your start time.
On your PCAT test date, keep in mind:
Though some study methods can be costly, preparing for the PCAT does not need to be expensive to be effective. For example, it is possible to compile a full PCAT curriculum of online video tutorials.
McCaffrey suggests looking into:
Citation for this content: St. John Fisher University's online Pharm.D. program from the Wegmans School of Pharmacy