Meet Fisher Pharm.D. Online Students
The Fisher Pharm.D. Online pathway from the Wegmans School of Pharmacy prepares students to be pharmacists of distinction. Our four-year program pathway offers a first-class pharmacy education that combines courses in the pharmaceutical and administrative sciences with on-campus immersions and clinical training rotations in local communities. Through a shared commitment to improving the lives of those they serve, our students graduate ready to make an impact in the pharmacy field. Hear directly from our Fisher Pharm.D. Online students below.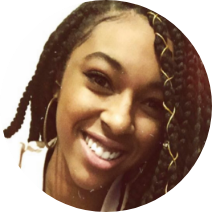 Deja Neal
Current location: Charlotte, N.C.
Current role: P2 vice president and student ambassador
Deja Neal studied biology in undergraduate school and entered the online Pharm.D. program pathway right after completing her prerequisite courses. She developed an interest in the pharmacy profession during high school when a friend suggested that she learn more about it. She did her own research and spoke to many pharmacists in her community. The advice she received from practicing pharmacists — paired with her love for science and drive to help others — led her to begin her journey toward an online Doctorate of Pharmacy degree.
Why did you decide to earn your Pharm.D.?
I've always loved science and helping people. Based on some of my own experiences, I know how much of a difference it can make in someone's life to feel like they have someone who is truly invested in them.
Why Fisher Pharm.D. Online?
I love that I can shape the way my education looks by catering my schedule to what works best for me. I'm not a morning person at all; I'm much more of a night owl, so now I have the opportunity to learn and study when my brain is at its best.
Is there a course you've particularly enjoyed?
My favorite course, so far, has been the Systems Pharmacology course sequence. We learn about the different medication therapies used to treat diseases by the body system they affect. I've always paid attention to small details, and I love to know the "why" behind everything. I've really enjoyed learning the mechanism of action of different medications and getting to see how they work on the cellular level.
What were your clinical rotations like?
I've only done one rotation so far, but I was able to learn so much from that experience. I was super nervous because I only had a limited amount of knowledge at the time, but I had an amazing preceptor who taught me so much in such a short amount of time. I was able to interact with and counsel patients, speak with providers over the phone and compound prescriptions. My favorite part was helping patients pick out OTC products because they always seemed so happy that someone would take the time to help them make such an important decision. I was also able to administer COVID-19 vaccines, and I really enjoyed being able to educate and support patients who were nervous about it.
Why do you think pharmacists are important, specifically right now?
​​What is next for you after graduation?
I'm not sure what I want to do yet after graduation because there are so many different realms of pharmacy that I'm still learning about that have piqued my interest. I'm hoping that after getting hands-on experience in all of our rotations, I'll have a better idea of which path I want to pursue. However, at some point down the line, I do have an interest in doing research on eczema. I've had eczema my entire life, and it doesn't seem to be a very well-understood disease. I've even thought about trying to create skincare products geared toward people with eczema because I know how hard it can be to find something that works for me, and I'm sure I'm not the only one.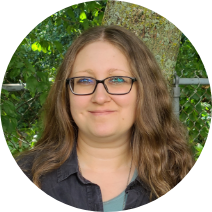 Rhiannon Reynolds
Current Location: Watertown, N.Y.
Current role: P2 historian
Rhiannon Reynolds came to Fisher Pharm.D. Online as a business developer for an aviation company and an M.B.A graduate. She is a nontraditional student who has worked many jobs and traveled to many places. For years, she's had an interest in pharmacy and her past experiences with online learning made it an easy decision for her to pursue her Pharm.D. online at Fisher as the next step in her educational and professional journey.
Why did you decide to earn your Pharm.D.?
Pharmacy was always something that I dreamed of doing. I worked as a tech for some years and enjoyed it, but I was interested in going further than that. However, geography wouldn't work in my favor as there wasn't a school in commutable distance from my home. So, even though my life was going in what some would consider the right direction, I decided to pursue this program pathway instead. It felt like the right decision. I look forward to completing my Pharm.D. and working in the field of pharmacy, wherever that might take me.
Why Fisher Pharm.D. Online?
The incredible convenience of the pathway really helped me to choose Fisher Pharm.D. Online, but it was the reputation of the college that sold me on the program pathway. An online pharmacy degree hasn't been offered before in New York state and I enjoyed the thought of being a part of the first cohort. I knew it would be challenging, but as an independent and highly-motivated person, I knew it would be the right program for me.
Is there a course you've particularly enjoyed?
Difficulty aside, I have really enjoyed Systems Pharmacology. The topics we cover encompass all body systems and really build on my background in biology. Dr. Parkhill, especially, has made her lectures easy to understand with the complex topics we cover. She also always listens to the students and provides meaningful and prompt feedback.
Why do you think pharmacists are important, specifically right now?
What is next for you after graduation?
Passing my NAPLEX and finding a job! Beyond that, I hope to take my Pharm.D. into some nontraditional realms, whether it be consulting or working for a startup company. If not that, then I'd like to settle down in a small-town pharmacy, where I know everyone's name and they know me, until I retire.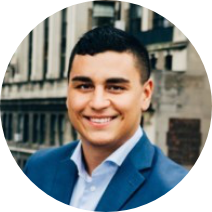 Vince Salerno
Current location: Jersey City, N.J.
Current role: Customer success manager, Clarivate
Vince Salerno completed his undergraduate degree in biology at George Washington University in Washington, D.C. During his sophomore and junior summers, he interned in different pharmaceutical-adjacent positions, which sparked his interest in pharmacy. Today, Salerno is enrolled in Fisher Pharm.D. Online while also working as a customer success manager at Clarivate — a health care data analytics company — where his clients are large biopharma companies.
Why did you decide to earn your Pharm.D.?
I really loved the flexibility of the degree. Personally, I found myself caught between wanting to work with patients in a clinical setting and wanting to work more on the industry business side of the house. With a Pharm.D., I can do either, or both, if I so choose.
Why Fisher Pharm.D. Online?
Having the ability to complete my degree online was paramount in my decision. I still need to work while in school, and being able to balance both has been great. Furthermore, I really enjoyed the idea of being part of the inaugural cohort of this pathway.
Is there a course you particularly enjoyed? If so, why?
I really enjoyed the Biosystems course sequence, specifically Biosystems II with Dr. Sapinoro. This was the first time I learned about the immune system in-depth and found it fascinating, especially in the backdrop of a global pandemic.
What have you enjoyed most about the immersion experiences?
The immersion experience I had — vaccine training and CPR — was exciting. I loved finally meeting some of my classmates in real life and having a photoshoot in our newly minted white coats.
Why do you think pharmacists are important, specifically right now?
What is next for you after graduation?
I plan on continuing on to some kind of post-doctoral program. I'm not 100% sure if that means a clinical residency or an industry fellowship yet, but I really enjoy learning.