Academics
The Fisher Pharm.D. Online program from the Wegmans School of Pharmacy at St. John Fisher University combines online with experiential learning to prepare you for your career in a variety of pharmacy settings.
The online pathway features the same courses as our on-campus offering in Rochester, New York, allowing you to pursue a premier pharmacy education, and impact lives, from within your own community.
We are waiving the PCAT requirement for applicants to our upcoming cohort. The equivalent of two years, or 62 semester hours, of pre-professional education at an accredited college or university are required prior to matriculation.
Curriculum
As a student in the online pathway, you will take 95 credits in didactic courses and laboratories, 50 credits in experiential courses, and 6 credits in elective courses for a total of 151 credits.
Throughout four years of full-time professional study, you will take courses in the pharmaceutical sciences, develop your clinical skills through didactic and group-based coursework, and learn the administrative aspects of pharmacy and health care while emphasizing professionalism, integrity, and diversity. In addition, you will explore courses in physiology, medicinal chemistry, and pharmacology, all of which build upon one another, helping you gain the essential clinical and drug-administration skills needed for work in the field of pharmacy.
Year One: Foundational Year
During your first year in the program pathway, you will take foundational courses in the pharmaceutical sciences such as pharmaceutics, biosystems, and pharmacology. You will also develop the essential soft skills required for work as a patient-centered pharmacist.
Years Two and Three: Introduction to Patient Care and Applied Work
Courses during your second and third years of study focus on deepening learning, engaging with real-world patients through introductory rotations, and building in opportunities to reflect individually and work in small interpersonal teams. In addition to working with patients, you will get essential hands-on experience in the laboratory, learning and honing your compounding and dispensing skills.
Year Four: Advanced Pharmacy Practice Experience
During the fourth year of the program pathway, you will demonstrate your mastery in the field of pharmacy during seven six-week rotations in real-world clinical settings. The required rotations include internal medicine, ambulatory care, community practice, and hospital practice. Elective rotations in numerous specialty areas are available. Examples include pediatrics, infectious disease, ICU/critical care, and psychiatry.
Questions? Admissions Can Help.
Request information about the Fisher Pharm.D. Online program and we will have an admissions counselor contact you.
Request Information
Experiential Education
Rotations are a major component of the Pharm.D. degree, constituting over 30% of the curriculum. As a student, you will be required to complete 11 clinical rotations for a total of 2,000 hours. These rotations are divided into two levels: Introductory Pharmacy Practice Experiences (IPPE) and Advanced Pharmacy Practice Experiences (APPE).
Introductory Pharmacy Practice Experiences (IPPE)
An opportunity to develop fundamental practice skills in the Pharm.D. program, the IPPE curriculum at St. John Fisher University provides a rigorous foundation in the biomedical, pharmaceutical, social, administrative, behavioral, and clinical sciences. These rotations instruct habits of self-directed learning to prepare you for advanced in-person experiences.1
The IPPE program takes place in the second and third years of the Pharm.D. pathway. It consists of four rotations (320 hours) broken up as follows:
IPPE-I (P2 summer semester): Students start in an outpatient, community setting — typically a community pharmacy dispensatory role. (120 hours, 40 hours/week for 3 weeks)
IPPE-II (P3 summer semester): The second rotation takes place in an institutional setting, such as a hospital or medical center. (160 hours, 40 hours/week for 4 weeks)
IPPE-III (P3 fall semester): Students are introduced to long-term care, typically in a nursing home or similar facility. (10 hours, 2 hours/week for 5 weeks)
IPPE-IV (P3 spring semester): Serving as an introduction to the Advanced Pharmacy Practice Experience (APPE), students work closely with seasoned preceptors. (30 hours total in divided sessions)
Advanced Pharmacy Practice Experiences (APPE)
In your fourth year, you will complete the APPE curriculum, which challenges you to apply the concepts you have learned and demonstrate essential skills for pharmacy practice. The curriculum is designed to integrate, reinforce, and advance the skills developed in co-curricular activities such as your IPPE rotations.1
The APPE program consists of four required rotations and three elective rotations (1,680 hours). Each rotation consists of 40 hours per week for six weeks total.
Core Rotations: advanced acute care, advanced ambulatory care, advanced community, and advanced health-system
Elective Rotations: specialty clinical areas, advanced community, management, managed care, research, academia, and more
Throughout your seven required rotations, you will focus on continuity of care by incorporating acute, chronic, and wellness-promoting patient-care services in inpatient and outpatient settings. These rotations expose you to diverse patient populations — as related to age, gender, race and ethnicity, socioeconomic status, and disease state — so you can confidently address the concerns of a range of patients in your future practice.1
What about placement? Our dedicated team will help you secure placement in or near your community that aligns with St. John Fisher University's high standards of excellence. Most states require students to obtain an intern license prior to beginning their rotations. The requirements for obtaining this license may vary by state, and students are encouraged to research the requirements specific to their state of residence. Learn more about how we set you up for placement success here.
Faculty and Leadership
Fisher faculty are dedicated, highly credentialed professionals who consistently make the advancement of scholarship in their respective fields a top priority. They set themselves apart by taking the time to nurture students' passions and curate a supportive and engaging learning environment. Our faculty often extend unique opportunities for student-directed research, including independent study and advanced practice rotations in research and academia.
Dean | Christine Birnie
Assistant Dean for Student Affairs | David McCaffrey III
Assistant Dean for Assessment | Sean Leonard
Assistant Dean for Online Education | Trevor Belcher
Associate Dean for Academic Affairs | Anna Ratka
Chair, Department of Pharmaceutical Sciences | Todd Camenisch
Chair, Department of Pharmacy Practice & Administration | Lisa Phillips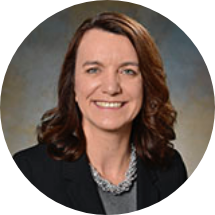 "Partner with us as we shape the future of pharmacy not only in the state of New York, but throughout the world."
1 ACCREDITATION STANDARDS AND KEY ELEMENTS FOR THE PROFESSIONAL PROGRAM IN PHARMACY LEADING TO THE DOCTOR OF PHARMACY DEGREE ("STANDARDS 2016").