How to Get the Most from Your Next Pharmacy Visit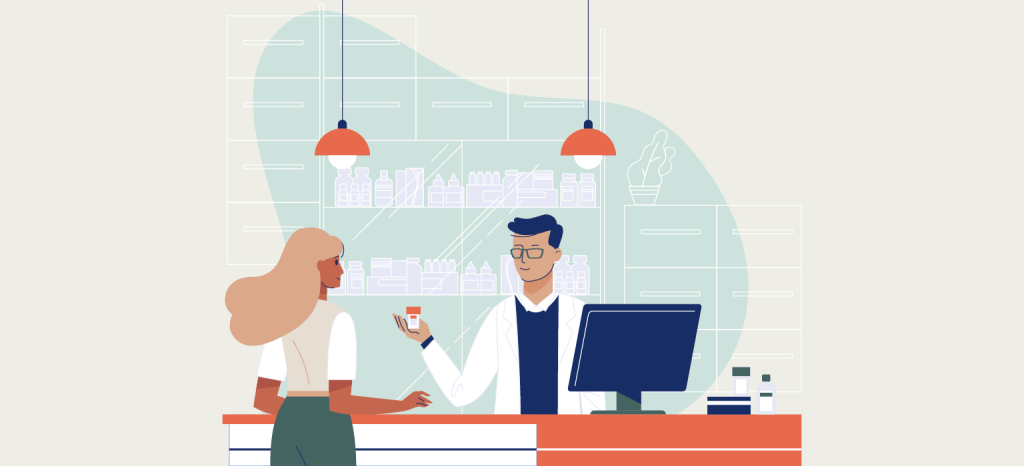 In a hurry to pick up their prescriptions, patients may engage only minimally with their pharmacists. They may save time but miss an opportunity to speak with a doctorally prepared health professional who can provide valuable advice.
According to Elizabeth Sutton Burke, Pharm.D., assistant professor at the Wegmans School of Pharmacy, the purview of a community pharmacist is broad, and their role is adaptable to meet clients' or patients' needs.
"Some days it's being the sounding board for any health concerns or complaints. Sometimes it's being an active part of finding a solution," she said. "Other times, it's being there to make recommendations to see a higher level of care."
Pharmacists also help patients stay well by providing immunizations, ensuring medications are taken correctly, and managing any side effects.
With an understanding of pharmacists' training and experience, you can be better prepared to make the most of the time spent with your pharmacist and benefit from the support they can provide.
Five Things Pharmacists Want You to Know

Generic medications work similarly to brand name therapies.
"Generic medications are federally required to be almost identical to the brand name," said Sutton Burke. Generic medications often have the same physical form, route of administration (e.g., by mouth or injection), and clinical benefits as the brand-name option, according to the FDA. The main differences are the inactive ingredients (the material holding the tablet or capsule together) and the price — generic medications can be less expensive.
"It's just a less expensive version, and sometimes, the generic medication is made by the same manufacturer as the brand medication," Sutton Burke said.

Pharmacists can help you find the best value.
Pharmacists can assist patients in finding effective but less expensive medication options within their insurance plans. They can also help manage the conversation between the patient, insurer, and prescribing provider.
Miscommunication and confusion can sometimes occur when patients need to communicate between the prescriber and insurer. Pharmacists can ensure clear communication between these parties, which can ultimately result in better care plans.

Vitamins and minerals undergo a review process.
"The seal from the United States Pharmacopeial Convention (USP) External link is a third-party group that will verify that what the manufacturer says is in the bottle is actually in the bottle," said Sutton Burke.
The seal, which looks like a green-and-gold stamp on product labels, can offer reassurance, because it indicates that a supplement has met strict testing and evaluation criteria.

Supplements, vitamins, and minerals aren't always necessary.
"Most people will get the vitamins and minerals they need from their food sources," said Sutton Burke. "In very few situations do people need to supplement their diet."
Supplementing is generally recommended for women who are pregnant or breastfeeding and people who struggle to get a balanced diet, such as older adults or picky children. "Otherwise, looking for specific deficiencies in vitamins and minerals would require a consultation with a provider to determine if someone needs it," said Sutton Burke. Pharmacists can then help patients develop a regimen that meets their needs.
She also advises patients to keep in mind that it is possible to have negative reactions when taking too many vitamins and minerals, which is another reason to consult with the pharmacist about your regimen.

Bringing a list of current medications can be helpful.
Documentation of prescriptions, over-the-counter medicines, and supplements will inform the pharmacist's understanding of your regimen.
"It's really important to make sure that the pharmacist has all the information to make the best recommendations," said Sutton Burke.
In particular, people who are switching pharmacies or who use different pharmacies should communicate this information to their pharmacists because not all pharmacy systems communicate with each other, she explained.
How Pharmacists Can Provide Support
Patients may not be fully aware of the myriad ways that pharmacists can support patient health and well-being. "The pharmacist can be the conduit to any point in the health care system," said Sutton Burke.
Community pharmacists like Sutton Burke are typically available without an appointment and can help triage patients' concerns. For example, should a patient go to the ER, urgent care, or their doctor? Can a rash be treated at home or should a provider see it?
Learn more about scenarios in which a pharmacist's expertise can help you save time, stress, and money.
IF YOU ARE:
Feeling unwell
A PHARMACIST CAN:
Offer an opinion on which over-the-counter medicines could help or whether you need to see a care provider.​
IF YOU ARE:
Caring for sick children
A PHARMACIST CAN:
Guide you in dosing over-the-counter medicines appropriately for children.​
IF YOU ARE:
Pregnant or breastfeeding
A PHARMACIST CAN:
Assist you in managing your medications to help keep you — as well as your pregnancy or newborn — healthy.
IF YOU ARE:
Concerned about high health care costs
A PHARMACIST CAN:
Suggest effective, less expensive options to discuss with your provider.
IF YOU ARE:
Getting rid of expired, unused, or unwanted medications
A PHARMACIST CAN:
Help you understand appropriate drug disposal, protecting your identity and preventing prescription drug abuse.
Pharmacists often have a wealth of knowledge about human health and well-being to share. Engaging them as an active member of your health care team can help improve your outcomes, streamline your decision-making, and lower the costs of care.
Legal Disclaimer: Please note that this article is for informational purposes only. Individuals should consult a health care professional before following any of the information provided.
Citation for this content: Fisher Pharm.D. Online, St. John Fisher University's online Doctor of Pharmacy degree from the Wegmans School of Pharmacy